Kyabjé Taklung Tsetrul Rinpoche passed away this morning (23.12.2015) in Bodhgaya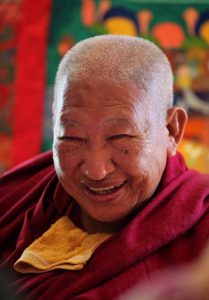 ༄༅། །༧སྐྱབས་རྗེ་སྟག་ལུང་རྩེ་སྤྲུལ་རིན་པོ་ཆེ་མཆོག་གི་མྱུར་བྱོན་གསོལ་འདེབས་བཞུགས་སོ།།
Swift Rebirth Prayer for Kyabje Taklung Tsetrul Rinpoche
སྤངས་རྟོགས་མཐར་ཕྱིན་ཐུབ་དབང་ལྷ་ཡི་ལྷ།།
pangtok tarchin tupwang lhayi lha
Perfect in relinquishment and realization is the Lord of Sages, the God among Gods;
རྒྱལ་ཀུན་གཅིག་བསྡུས་མཚོ་སྐྱེས་རྡོ་རྗེ་འཆང་།།
gyalkun chikdü tsokye dorje chang
The single essence of all the buddhas is the Lake-born Vajradhara;
མཆོག་གི་སྤྲུལ་སྐུ་རིག་འཛིན་རྒོད་ལྡེམ་གྱིས།།
chokgi trulku rigdzin gödem gyi
And the supreme emanation is Rigdzin Gödem—
བདག་གིས་གསོལ་འདེབས་འགྲུབ་པའི་མཐུན་འགྱུར་མཛོད།།
dakgi söldeb drupé thungyur dzö
May you all support the accomplishment of my supplication!
སྐྱབས་གཅིག་དྲིན་ཅན་བླ་མ་དེང་འདིར་དགོངས།།
kyapchik drinchen lama dengdir gong
My only refuge, kindest lama, please heed this.
མགོན་ཁྱོད་བསྐལ་མང་གོང་ནས་ཐུགས་བསྐྱེད་བཞིན།།
gönkhyö kalmang gongne thugkyé shin
Just as you, the protector, made aspirations many eons ago,
འགྲོ་ཀུན་བརྩེ་བས་འདོར་བ་མི་མངའ་ཡང་།།
drokün tsewé dorwa minga yang
And even though out of your compassion you never abandon any being,
བདག་སོགས་ཉེས་པས་གནོང་ངོ་སྙིང་ནས་བཤགས།།
daksok nyepé nongngo nyingné shak
We regret all our faults, and confess them from our hearts.
མདོ་སྔགས་བཤད་སྒྲུབ་ཆོས་ཀྱི་ཉིན་བྱེད་ཀྱི།།
dongak shedrup chökyi nyinjé kyi
You illuminate the study and practice of both the sutra and tantra teachings
ཕྲིན་ལས་འོད་སྟོང་དཔལ་འབར་མཛད་བཟང་པོས།།
trinlé ötong palbar dzesang pö
With the thousand rays of your noble activity's blazing glory—
འགྲོ་བའི་རྨོངས་པའི་སྨག་རུམ་སེལ་སླད་དུ།།
drowé mongpé makrum sellé du
In order to dispel the darkness of all beings' ignorance,
སྤྲུལ་པའི་ཟློས་གར་མྱུར་དུ་སྣང་མཛད་གསོལ།།
trulpé dögar nyurdu nangdzé söl
Please swiftly illuminate your emanation's display!
དེ་ལྟར་རྩེ་གཅིག་གསོལ་བཏབ་བསླུ་མེད་མཐུས།།
detar tsechik soltap lumé thüi
By the infallible power of this single-pointed supplication,
ཐུབ་བསྟན་སྤྱི་དང་སྔ་འགྱུར་བསྟན་པའི་རྒྱན།།
thubten chidang ngagyur tenpé gyen
May the supreme emanation utterly beautified with the nine noble qualities,
དམ་པའི་ཚུལ་དགུས་རབ་མཛེས་མཆོག་གི་སྤྲུལ།།
dampé tsulgü rapdze chokgi trul
The ornament of the teachings of Lord Buddha in general and the Nyingma teachings in particular,
མྱུར་བྱོན་འགྲོ་བའི་མགོན་དུ་རྟག་བརྟན་ཤོག །
nyurjön drowé göndu takten shok
Return swiftly and remain firm as the protector of beings!
ཅེས་ པའང་རྗེ་བླ་མ་མཆོག་དགོངས་པ་ཆོས་དབྱིངས་སུ་བསྡུ་བའི་ཉིན་མོར། གང་གི་སྐུ་ཚ་བོ་དཔལ་འབྱོར་ནས་སྐད་ཕྲིན་གྱི་ལམ་ནས་དང་། ཉེ་བར་གནས་པ་མཁར་ཆུའི་མཁན་སློབ་བཅས་པས་འདི་ལྟར་འབྲི་ཞེས་ལྷ་རྫས་ཀྱི་རྟེན་ བཅས་བསྐུལ་བ་བཞིན། ནམ་སྙིང་སྤྲུལ་སྐུ་གཞན་ཕན་བྱམས་པའི་གོ་ཆ་བསྟན་འཛིན་རྒྱལ་མཚན་གྱིས་དད་འདུན་ རྩེ་གཅིག་པས་དཔལ་ལྡན་བླ་མ་མཆོག་ལ་གསོལ་བ་བཏབ་བཞིན་མཚམས་མལ་ནས་གང་དྲན་བྲིས་ ཏེ་ཕུལ།
On the day when the lord and supreme master's wisdom mind entered into the dharmadhatu, his nephew Paljor messaged me, and also, my disciples near me, the khenpos and lopons of Kharchu monastery, requested me with a khata offering to compose a swift rebirth prayer. As such, I, Tulku Namkhai Nyingpo Shenphen Jampé Gocha Tenzin Gyaltsen, wrote this on my retreat bed whilst single-pointedly supplicating the glorious master with great devotion.
As a sincere and heartfelt offering for our root guru, Kyabje Taklung Tsetrul Rinpoche, and his English speaking students worldwide, this prayer was translated on 24th December 2015, by Khenpo Sonam Tsewang and edited by Ven. Konchog Norbu, both of whom are students of Kyabje Rinpoche. May he swiftly return for the sake of all
Kyabje Chatral Sangye Dorje Rinpoche (18 June, 1913 – 30 December, 2015) was a renowned Dzogchen Master of the Ningma School of Buddhism.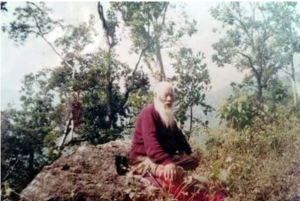 He was widely regarded as one of the most highly realized Dzogchen yogis and greatest masters of our time.
Rinpoche was especially well known for his advocacy of vegetarianism and his annual practice of releasing the lives of thousands of animals in India. Rinpoche practised what he preached without compromise and was beloved throughout the Himalayan region by people of all faiths.
Kyabje Chatral Rinpoche entered parinirvana in Pharping, Nepal on 30 December, 2015 at the age of 102 (Western Calendar) and remained in tukdam until 5 January, 2016.
We pray for Rinpoche's swift return for the benefit of all beings ……
Open letter by Semo Saraswati (klick to enlarge) :